As I write this I'm watching the second-half of the first Steelers football game of the season. We're winning right now, but there is still a lot of time on the clock. How this game ends is anyone's guess.
But one thing is certain, Steelers fans will keep on cheering.
Which brings me to the my very short, but specific, list of reasons why I love the Steelers. But in no particular order.
You either love us or you hate us. Our team has 6 Super Bowl rings. We're tough. Either you see Pittsburgh like this. Or you watch this and get chills:
There isn't a lot of middle ground when it comes to the Steelers. We're a huge allegiance of fans that spreads throughout the world. It's thrilling to run into others wearing Steelers shirts, hats, and jerseys when you're not actually in Pittsburgh. It's like belonging to an elite club that welcomes you no matter where you are at the moment. Sure, Steeler Nation may be loud and brash. But we're proud and excited and we just want you to join our ranks.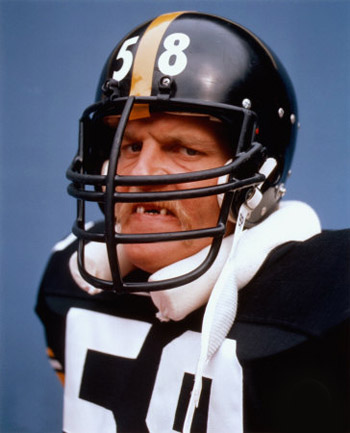 He is one the Steelers scariest players of all-time. And considering he stopped playing for the Steelers when I was about three years-old, I'm quite sure I didn't understand a lick about football when he was on the team. But I love him as a young Pittsburgh girl and having a favorite player so early on in my fandom was a clear sign for the future. Hines? Troy? Pouncey? Mike Wallace? I have loved them all.
This guy played for the Steelers from 2001-2005. That's a lot longer than I remember. Remember when he was in the XFL and THEN played for us? And THEN was our main QB for a period of time? Yeah. We may have won 6 Super Bowls, but we can't take ourselves that seriously if we kept this guy around for four years. And as much as I love football, it's a game. We all have to remember that sometimes you aren't on top, sometimes Tommy Maddox is your QB, and sometimes we're going to lose a few games.
We bleed Black and Gold. I can't wear black and gold in the city without asking if there is a Steelers/Pirates/Penguins game I'm attending later. But we have a song called Black and Yellow.
The rest of the world probably grew very sick of this song years ago. But to Pittsburgh, it's forever going to have a special place in this city every fall. To me, it reminds me of winter where a Steelers Super Bowl was the first big challenge I had to face as a "single girl." It's a happy song. And sure, Wiz may be a Dad soon and that just kind of feels a little bit wrong. But at least he's going to be a
Pittsburgh Dad.
Yeah, we're losing now So I'm just going to go and channel my thoughts to the Steelers. Football season has begun! Here We Go!